Can Haz Celebration?
Date: 6/26/2009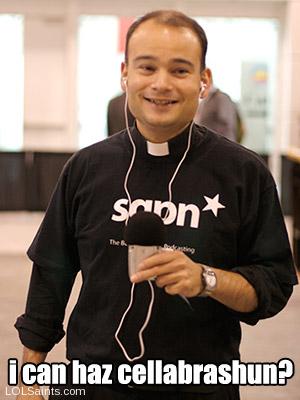 Iz that time of year!
Father Roderick Vonhögen, pictured above, is going to get things started at the Catholic New Media Celebration, going on this weekend (tomorrow, actually!). He is the founder of the 'Star Quest Podcast Network, a grouping of some of the most popular Catholic podcasts on the web.
Joining him will be a smattering of Catholic bloggers, podcasters, and—you guessed it!—the Saints themselves. We'll be jammin' with the best of them at this year's conference.
Follow @geerlingguy and @OSCatholic for more information as the day goes on... we may or may not have a saint posted tomorrow. It really depends on whether the Saints get a few minutes of a break ;-)