Can Haz Grill?
Saint:
Date: 7/12/2009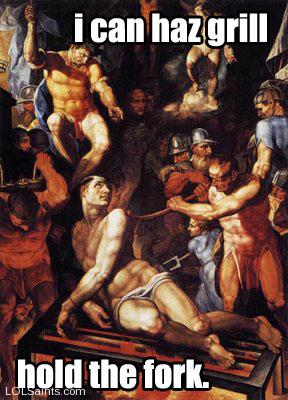 Lawrence, the patron saint of burn victims.
A special sumpthin' for all of you today on the podcast side of things: since the LOLSaints guy is down in Springfield, MO for the Steubenville St. Louis Mid-America conference, and since that guy is always thinking of ways to get out of working on the podcast himself, the podcast for today was recorded on-the-spot, and the saint was chosen by one of the chaperones (who was interviewed at the Juanita K. Hammons Theater)!
Saint Lawrence was a saint we can appreciate, and here's the short of his story: He was a holy man who loved the Eucharist, loved Jesus (that's the same thing ;-), and had a healthy sense of humor.
Reportedly, he was sentenced to death by being burned on a gridiron. While on the grill, he said to his tormentors, "turn me over and take a bite; this side's done!"
Thus, he is the patron of comedians (maybe he should be the LOLSaints.com patron saint!) and anyone who grills good food.