*Clap Clap*
Saint:
Date: 11/18/2009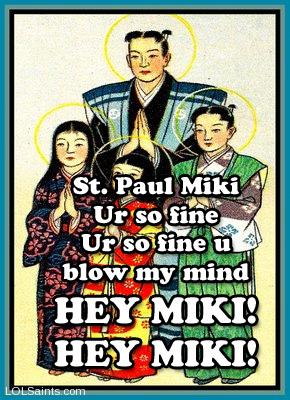 We mean no disrespect to this great saint! We promise!
"The only reason for my being killed is that I have taught the doctrine of Christ. I thank God it is for this reason that I die. I believe that I am telling the truth before I die. I know you believe me and I want to say to you all once again: Ask Christ to help you become happy. I obey Christ. After Christ's example, I forgive my persecutors. I do not hate them. I ask God to have pity on all, and I hope my blood will fall on my fellow men as a fruitful rain. "
(—St. Paul Miki)
Paul was the son of a Japanese military leader. He was born at Tounucumada, Japan, was educated at the Jesuit college of Anziquiama, joined the Jesuits in 1580, and became known for his eloquent preaching. He was crucified on Februay 5 with twenty-five other Catholics during the persecution of Christians under the Taiko, Toyotomi Hideyoshi, ruler of Japan in the name of the emperor. (Read more from Catholic.org).