Contest Winner - R U listenen?
Date: 3/6/2009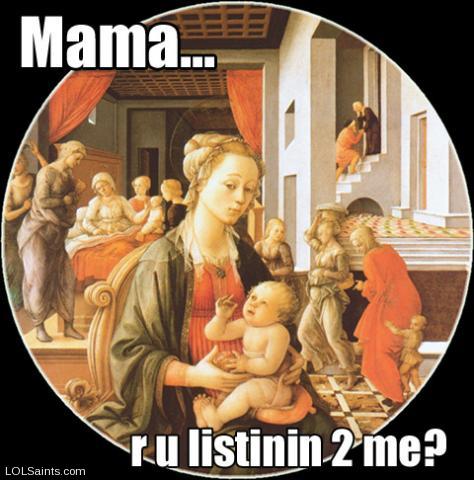 I iz talkin' to you!
Congratulations to our March Capshun Contest winner, wrightap, whose winning entry is depicted above.
There were a great deal of entries, and it was hard to choose just one. Here are some of the notable runners-up:
Mommy, snap out of it! (by Anonymous)
I iz Wizdom, Mom is gud Seet (by Baron Korf)
Itz Okee doekee momz... cuz I got z whole world in my handz (by joandrexel)
Plz... let thiz be hz last lekchur 2day! (by Maria)
Pweez, let me do juzt won widdle mirucul? (by Jamie)
mom! mommy! mama! Theotokos!! (by Juls)
Thanks again for all your entries! And now, back to our regularly scheduled program...
Mary is the mother of God—the 'Theotokos,' or 'God-bearer'—and was, I'm sure, happy to oblige her son in anything, including lectures ;-)
She is also the 'Seat of Wisdom,' since her son, the Eternal Wisdom, was born from her... and in this picture, she is most literally depicted in this way!