Holiness then Fun
Saints:
Date: 6/22/2009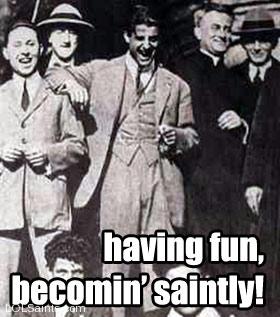 Can b exuberant and saintly?
This guy, the Blessed Pier Giorgio Frassati, had a family with wealth and political prestige while he was growing up in Rome. His father wanted him to be another influential and rich man, but Pier wanted to live a life of virtue and charity.
He secretly gave much to the poor and the sick around his house, and he often helped those who couldn't help themselves. He did all of these things while living a life full of joy and friendship (as can be seen in the picture above!). He died, sadly, of Polio at a young age, and his father (and likely many others who didn't know Pier as well as they should've) was surprised to witness thousands of mourners lining the city streets, in honor of Blessed Frassati's humble service to them.
He was beatified (made a Blessed) by Pope John Paul II in 1990, and is especially honored by those who like to live their Catholic faith filled with fun, joy and humility... including all the Saints ;-)
Read more about Pier Giorgio Frassati from Bettnet.