i can haz winner?
Date: 2/4/2009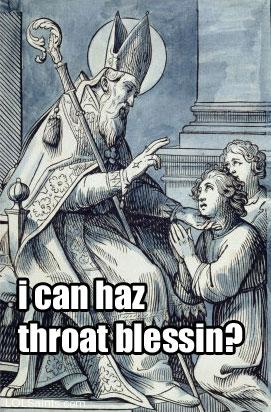 Can I? Plz?
Congratulations to Randall, who won our first ever 'capshun' contest, and just grew his iTunes library by 15 songs! His entry, while quite short and—ahem—not the most 'out-of-the-box' for this site, had a particular ring to it. There were a few other worthy runners-up (one of which might get the prize, if Randall doesn't respond today!):
"...and I want a new wagon, and peace on earth..." [John]
"Please, Mr. Gandalf, sir, don't hurt me. Don't turn me into anything... unnatural." [Adam]
"U Can Haz Phish, but Dun Swallow Bonez. KTHXBAI!" [Baron Korf]
There were so many awesome entries, though, it was hard to choose the top few; and I'm sure some of you will disagree with my choice. Be that as it may, there will be more Capshun Contests in the coming weeks, so stay tuned!
Oh, yeah. Saint Blaise is awesome [Wikipedia].