Iz My Year!
Saints:
Date: 6/10/2009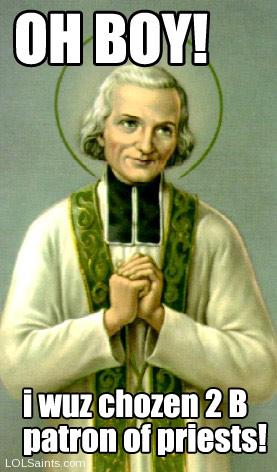 Iz a good year to be a priest!
Already the patron saint of parish priests, Pope Benedict chose the Curé d'Ars as patron of the upcoming Year of the Priest. Saint John Vianney is a wonderful example for parish priests everywhere to emulate: he loved his faith, he practiced mortification (self-denial for stronger faith), and he increased the devotion of those surrounding him through promotion of the Sacrament of Confession and through his vibrant faith.
Like many other great priest-saints, Saint John Vianney spent many full days inside the confessional, practicing the ministry (ever so needed!) of forgiveness, and people came from all over the world to hear him preach.
Read more: Wikipedia | Catholic Encyclopedia