Lazer Wounds
Saints:
Date: 2/18/2009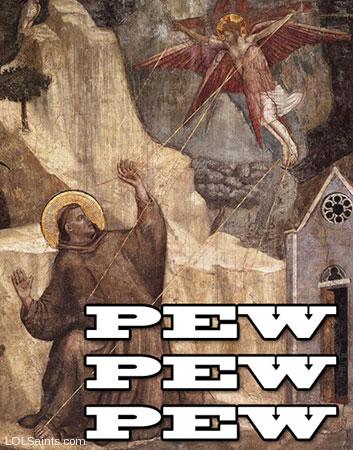 I haz em...
(Yes. We know that "lazer" is actually spelled with an s. Please accept the fact that not every word here is going to be spelled 100% correctly ;-).
In the fresco above, St. Francis of Assisi is depicted as recieving the stigmata—the five wounds of Christ. (The stigmata is a physical manifestation of the sorrowful pain and suffering of Christ given to some saints. Sometimes the stigmata is visible, and the five wounds (on the hands, feet and side) are visible and bleeding; other times, the stigmata is hidden, but the bearer suffers nonetheless).
St. Francis of Assisi is a great example of a faithful man who loved the poor, as he began to do all he could to comfort the poor and sick in their distress, after having lived a carefree childhood and early adulthood. He spent a lot of time in isolation, praying and working to build up the Body of Christ. Before he died, he had started the order of Franciscan monks, which, even today, is one of the Church's most prayerful and vibrant communities.
For much, much more on this glorious saint, please visit the Catholic Encyclopedia's entry on St. Francis of Assisi.