Mary Points to Jesus
Saints:
Date: 12/12/2009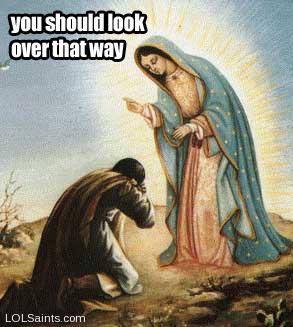 That's where Church is.
Mary, who always points us to her Son, Our Lord, Jesus Christ, is depicted in the image above as Our Lady of Guadalupe, patroness of the Americas, and Star of the New Evangelization. Her beautiful image is forever imprinted onto the tilma of Blessed Juan Diego.
You can read much of the amazing story on the SQPN Saints section.