Miracle Win!
Saint:
Date: 5/27/2009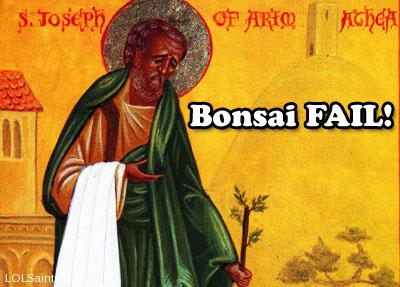 I can haz staff back plz? (Bonsai fail!)
"According to tradition, following the crucifixion of Jesus, St Joseph of Arimathea was driven from his home and began a journey of conversion. He traveled first to Marseilles and then in 63 A.D., at the bidding of St. Philip, to Glastonbury in an attempt to bring Christianity to the Britons. Joseph was the owner of the tomb in which Jesus Christ's body lay from Good Friday till the third day, Easter.
Upon their arrival at Weary-all Hill (also known as Wirrial Hill], and tired from the journey, he and his 12 companions laid down to rest. As he did so, he thrust his staff into the hill. When he woke up, the staff had taken root and begun to grow . It flowers every Christmas and every spring. This became the site of the Glastonbury Abbey" (Source: The Hymns and Carols of Christmas).
Keywords: Bonsai, bonzai