Original FAIL
Date: 6/14/2010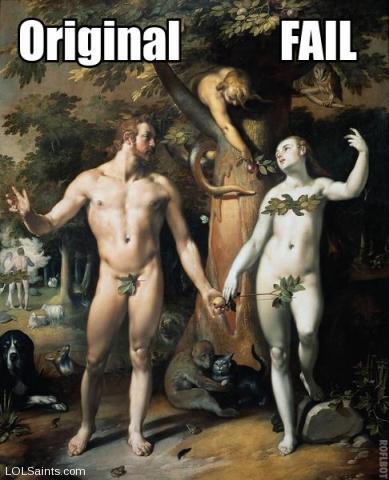 An "apple" one day, took the garden away.
Adam and Eve lived among the Tree of Life and the Tree of the Knowldege of Good and Evil. One tree had the power to provide them unending life, while the other one could kill them. They ate from the second, lost the first, and passed their woundedness down to us. It would take a New Adam, with a New Eve at His side, to undo their Fall, the "Original Fail."
In His cross, Jesus combines these two trees from Eden into one, for His cross is the tree which presents us with both the worst evil and perfect goodness, and to eat of this tree's Fruit gives us eternal life.
And as a final thought, the image above brings to mind something we have to look forward to: To have a perfect body is nice, but a glorifed body is even better.
[Image : "The Fall of Man," by Cornelis van Haarlem, 1592, the Netherlands.]