Painted Nails
Date: 1/29/2009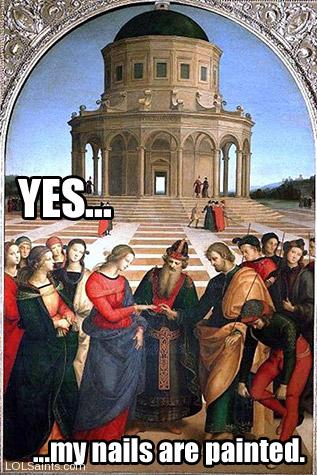 So stop looking at me so funny!
The above picture is one of hundreds of Italian Renaissance paintings, this one by Raphael, entitled The Betrothal of the Virgin.
The marriage of the Virgin Mary and the carpenter Joseph is a topic not often discussed in modern times. A lot of Catholics might even feel ashamed of their belief that Mary remained "ever-virgin," because, according to modern culture, we're all animals, unable to contain our physical desires!
Well, that's why it's so awesome to have such a beautiful marriage at the center of Jesus' life! The marriage of Joseph and Mary is an earthly marriage, but it reflects the marriage of Christ and the Church, which we will all partake of in Heaven, and which goes beyond mere sexuality. I won't get into the specifics here... but if you want to learn more about the marriage of Mary and Joseph, read on!