Pown!
Date: 4/22/2009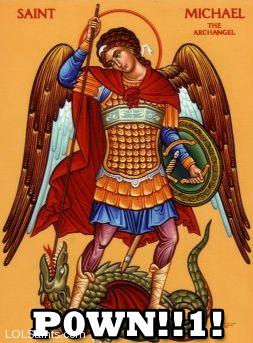 I can haz long spear?
"In art St. Michael is represented as an angelic warrior, fully armed with helmet, sword, and shield (often the shield bears the Latin inscription: Quis ut Deus), standing over the dragon, whom he sometimes pierces with a lance." Read more on this great archangel's life on the Catholic Encyclopedia.
Saint Michael the Archangel,
defend us in battle.
Be our protection against the wickedness and snares of the devil.
May God rebuke him, we humbly pray;
and do Thou, O Prince of the Heavenly Host -
by the Divine Power of God -
cast into hell, satan and all the evil spirits,
who roam throughout the world seeking the ruin of souls.
Amen.