Your Sins Hurt Me...
Saint:
Date: 1/31/2009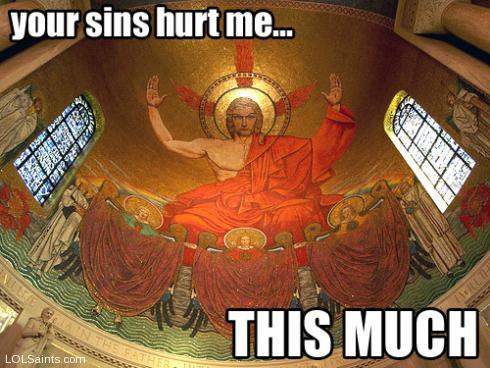 Your sins hurt me THIS MUCH!
I cannot take full credit for this one... in fact, I can't take any. Forum user montanaman of the "Sophia House" forums came up with the picture, and the caption. In fact, he came up with quite a few captions for this one (follow the link for more).
The photo is a picture of the "Christ in Majesty" dome at the Shrine of the Immaculate Conception in Washington, D.C. It is said to be one of the largest mosaics of Jesus in the world, with over 2 million tiles! I would say "large and in charge" is a quite fitting description. You can read more about the image of Christ in Majesty on the Shrine's website.
I think the image can be even more interesting from a view from the side (as the picture below, from the Shrine's website, shows):

It's... just... scary!