Saintly Lamp
Saint:
Date: 5/3/2011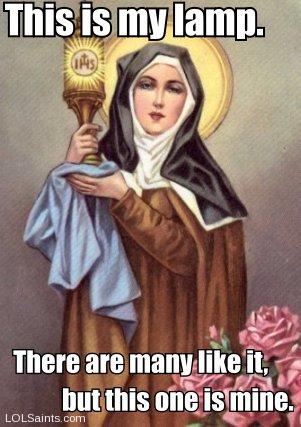 It's very pretty, and holy!
Cofoundress of the Order of Poor Ladies, or Clares, and first Abbess of San Damiano; born atAssisi, 16 July, 1194; died there 11 August, 1253.
She was the eldest daughter of Favorino Scifi, Count of Sasso-Rosso, the wealthy representative of an ancient Roman family, who owned a large palace in Assisi and a castle on the slope of Mount Subasio. Such at least is the traditional account. Her mother, Bl. Ortolana, belonged to the noble family of Fiumi and was conspicuous for her zeal and piety.