Why, Yes, I Do Have a Splitting Headache
Date: 6/28/2011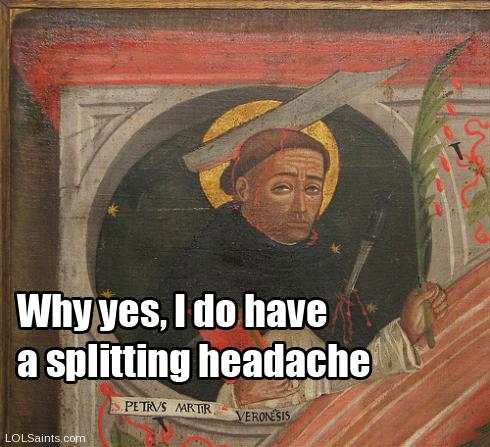 ...or, St. Peter of Verona...
From the Catholic Encyclopedia:
Sent to a Catholic school, and later to the University of Bologna, he there met St. Dominic, and entered the Order of the Friars Preachers. Such were his virtues, severity of life and doctrine, talent for preaching, and zeal for the Faith, that Gregory IX made him general inquisitor, and his superiors destined him to combat the Manichæan errors. In that capacity he evangelized nearly the whole of Italy, preaching in Rome, Florence, Bologna, Genoa, and Como.