Righteous Anger
Saint:
Date: 2/9/2012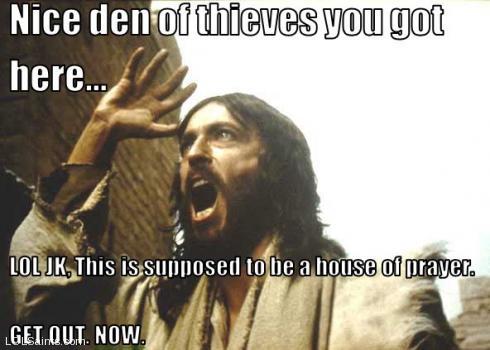 Jesus doesn't look very happy at all.
This scene from "Jesus of Nazareth" depicts the story of Jesus in the temple, overturning the tables of the money changers selling sacrifices. According to the story, Our Lord declares the Temple of Jerusalem to be "a house of prayer," citing the Prophets, but also states that it has been made into a "den of robbers." (Matthew 21:12-13 NIV)
So the question is, was Jesus ever violent? The answer is a straight up no. This act of anger is towards the worship of wealth and the financial draining of people trying to worship God. Basically, Jesus is outraged at the misuse of religion for personal gain. He was angry at the abuse the worshippers were enduring.
So if you're trying to justify your acts of violence with what Jesus did in the Temple, you are not interpreting God's Word right.
"But I tell you, Do not resist an evil person. If someone strikes you on the right cheek, turn to him the other also." (Matthew 5:39 NIV)