And Now, U Git Beated.
Date: 1/28/2009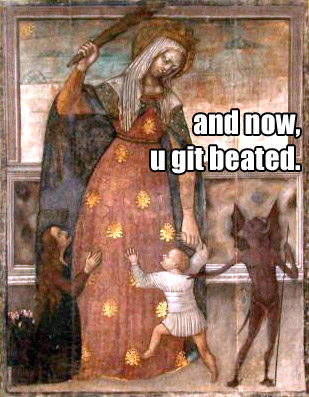 (No, not the child... the demon. You sicko!).
Depicted above is Mary, Mother of Help (or, popularly, Mary, Exterminatrix of Heresies). This is but one of many depictions of the Blessed Virgin Mary 'beating the hell' out of a child (quite literally!). Like many icons, this is NOT necessarily an accurate depiction of an historic event!* She doesn't go around beating little children. But you already knew that, right?
Instead, it depicts a vision of the Madonna del Soccoroso from the 14th century. It is said that a mother in Sciacca accidentally invited the devil into her son's life, and then begged Mary to help banish the devil. Mary appeared, beat the devil down with her club, and then stood on the devil.
You can read more about this apparition, as well as many others, at The Fisherman's Feast website.
[Update: Here's a link to "Rifugio San Gaspare," where the above picture came from. Thanks!]
*If you interpret every piece of art and literature literally, may God have mercy on your soul! You can never discover the true beauty and meaning in life without understanding it from a non-literalist perspective.