I've Been Transmogrified!
Date: 2/5/2009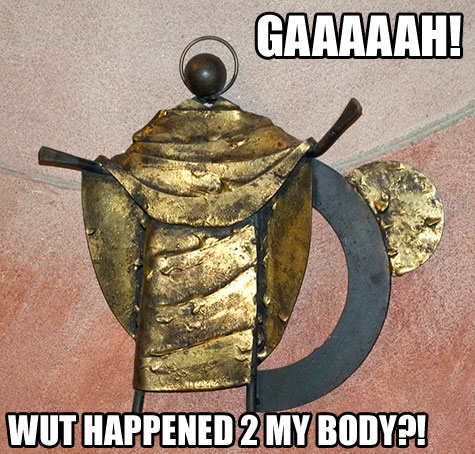 I used to be a hooman; now I am not!
There's not a whole lot to say about this one. When you look at art like this, there's almost always one word to describe it: "Huh?"
This was one of the Stations of the Cross at a retreat center I visited a few years ago... It's kind of odd, since the Stations traditionally don't include the Resurrection. And that's besides the fact that, in this depiction, it seems that Jesus' head was kind of replaced by a iron ball, and his body was wrapped in copper grounding strips, then painted over with gold spray paint. Finally, the way his arms are posed, it looks like he's saying "Hey, man; it's all cool!"
It's just... odd.