No More Spare Keys!
Date: 3/7/2009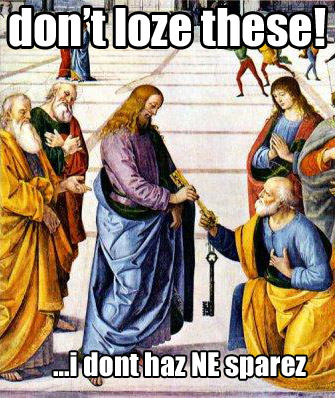 Take care of them.
"And Jesus came into the quarters of Caesarea Philippi: and he asked his disciples, saying: Whom do men say that the Son of man is? But they said: Some John the Baptist, and other some Elias, and others Jeremias, or one of the prophets. Jesus saith to them: But whom do you say that I am?
Simon Peter answered and said: Thou art Christ, the Son of the living God. And Jesus answering, said to him: Blessed art thou, Simon Bar-Jona: because flesh and blood hath not revealed it to thee, but my Father who is in heaven. And I say to thee: That thou art Peter; and upon this rock I will build my church, and the gates of hell shall not prevail against it. And I will give to thee the keys of the kingdom of heaven. And whatsoever thou shalt bind upon earth, it shall be bound also in heaven: and whatsoever thou shalt loose upon earth, it shall be loosed also in heaven. Then he commanded his disciples, that they should tell no one that he was Jesus the Christ" (Matthew 16:13-20).
The keys to His Father's Kingdom symbolize Jesus conferring authority upon Peter. Just as in Isaiah 22:22 a Prime Minister is installed and given the keys of the House of David, Jesus is setting Peter as "prime minister" of His Church. He is not just bestowing authority upon Peter, but He is creating a position that has been transferred upon the death of the Pope through the ages until today with Pope Benedict XVI.