Feast of the "Holy Father"
Date: 3/19/2009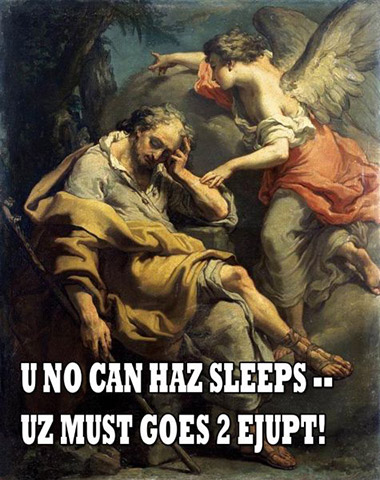 "But I iz so tired ... zzzzz..."
Joseph gets the short shrift among the communion of saints. I mean... if there was ever a problem in the Holy Family, who was to blame? It was always Joseph. He didn't get that unbelievably amazing grace that was given to Mary, and thus was the only imperfect member of the Holy Family.
Luckily, though, Joseph, a simple carpenter from Bethlehem, was able to not mess things up so badly. I mean, his son ended up saving the world! His wife didn't turn out too bad either ;-)
Saint Joseph: Today is your day to shine. Every morsel of bread I eat today I eat in your name. You're an awesome saint, even if you don't get the limelight too often. You're the best family man that's probably ever been on the earth, and for that, we salute you!