Stairway to Heavenz
Saints:
Date: 4/19/2009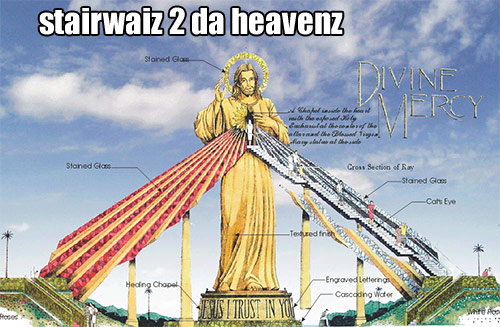 Divine Mercy Sunday. Ur doin it rite!
The image above is an early artist's rendering of the Statue of the Divine Mercy in Divine Mercy Hills, in El Salvador City, Misamis Oriental Philippines. It's quite a large statue, and attracts many, many pilgrims, who want to truly see the 'heart of Jesus' - and heck, there's even a staircase to that heart!
Saint Faustina Kowalska was blessed with revelations about God's mercy which were written down in the early 20th century, and which reverberate through the world today. Pope John Paul II highly commended this wonderful devotion (to the Divine Mercy), and promoted the recitation of the Chaplet of Divine Mercy.
The basic message is this: Jesus loves every single one of us, no matter how badly we have damaged our relationship with him. He so desires us to love him back that his heart burns with the fire of mercy. If we trust in him, he will give us all the mercy we need to be with him forever. Thus the inscription, "Jesus, I trust in You!"
Read more about the Divine Mercy Devotion on EWTN's website.