Stiffarm
Saints:
Date: 4/29/2009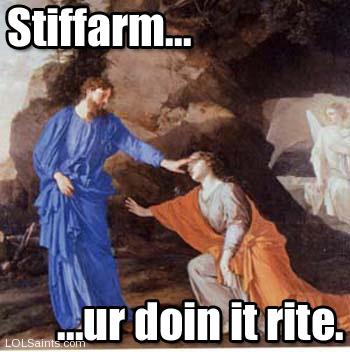 ...ur doin it rite!
[Edit: Umm... we are crazy. See the first comment below, then read the information below this line, but don't attach it to the image above ;-)]
This image, presumably of the hemorrhaging woman touching Jesus' garment and being healed due to her faith, makes one ponder just what was happening in the woman's life, and why Jesus made it a point to single her out among the many who likely bumped into him on the crowded street.
This woman's account (from America magazine) is especially intriguing. What humiliation and suffering the woman must've gone through in her life. And how rewarding must her faith have been!
She trembled with fear, but Jesus only said, in his perceptive, succinct way, "Daughter, your faith has made you well; go in peace."
All we have to do is touch him. Just the hem of his cloak. Touch Jesus, and the forces of life and love will stop seeping out of us; we will be restored to full spiritual health and vigor. Touch Jesus, and we will be sent forth, faithful, well, and in peace.