In ur headz, infusing graces
Saint:
Date: 5/5/2009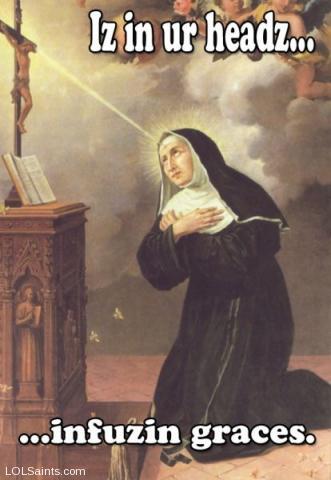 ... with lazer beamz!
Saint Rita was a holy nun and (prior to being a nun) mother of two children who lived during the 15th century in Italy. She wanted her whole life to be a nun, but was in an arranged marriage from her teens until her husband's unfortunate death. Her husband was not a very kind man, but he eventually came around and asked Rita for forgiveness for all the wrongs he had done to her and her children.
In the picture above, we witness the scene where Rita asked the Lord to allow her to share in his suffering (a petition which many great saints make!), and the Lord shares a wound in the head from one of the thorns he had to endure before his crucifixion.
Read more about St. Rita of Cascia in the Catholic Encyclopedia.