The Saints R Takin' a Break!
Date: 5/23/2009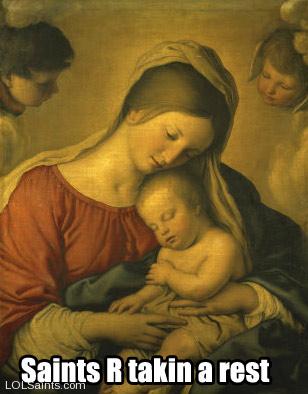 [UPDATE: We will be back up on Wednesday, May 27. Sorry for the delay!]
The saints are taking a break this Memorial Day weekend. They'll be resting up, preparing for the summer months. More specifically, the guy behind the screen here is taking pictures for priesthood ordinations this weekend... so, yeah; not much time for more LOLSaints until Monday.
Keep the images, coming, though, so we can jump right into the summer months with a new arsenal! (Also, we're anticipating the results of the most-prestigious 2009 Canonball Awards — we'd love a canonball to come crashing through here!).