CAPSHUN CONTEST - Jesus and Mary!
Date: 3/4/2009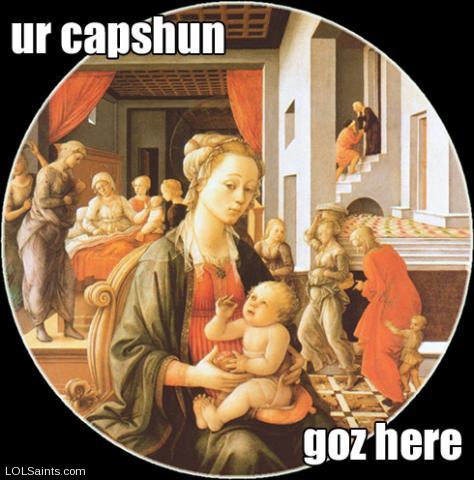 Update: Winner was announced!
It's that time of the month! Submit your "capshun" for the picture below in this post's comments, and you'll be entered to win this month's prize. For all the juicy details, please click the 'Continue Reading' link under the picture:
Ur capshun... goz above!
This being the second capshun—er... caption—contest, you might start to get the hang of things... Here's how it works:
You provide a creative caption for the above photo (it's Mary holding the baby Jesus, in case you were wondering) in the comments before 10 p.m. CDT, March 4 (tonight)
LOLsaints.com will pick a winner after the comments are closed.
The winner will be receiving:

Hail, Holy Queen — a wonderful book by Scott Hahn on the Blessed Virgin! (generously donated by Midwestern Mac, LLC)
The respect of the lolsaints community.
A link back to his blog/website (if the winner has one)
In order to get the prize, you will need to include a working email address in your comment (otherwise, we'll be unable to contact you regarding the prize; duh!). The easiest way to guarantee you'll be able to be contacted is to register a user account before leaving that comment :-)
Contest rules:
You may submit up to two entries in the same post - if you enter more than two entries, only the first two will be accepted.
All entries must be submitted by 10:00 p.m. CDT on March 4, 2009. At that point the contest will be closed, and no more entries will be accepted.
By submitting an entry, you are giving LOLSaints.com the right to use your entry on its website, atop the picture at the top of this page.
The winner will be selected before 7:00 p.m. CDT on the day following the contest (March 5, 2009), and will be notified by email. If the winner does not respond within one day of being contacted, the runner-up will be awarded the prize. If the runner-up is also unable to be contacted, the prize will be held until the next contest.
LOLSaints.com's judgement is final.
So, please leave a comment below, and say a prayer to Saint Anthony that we'll find your capshuns humorous!
(Image was submitted by Maria—thank you!).