CAPSHUN CONTEST; Win an iPod!
Saints:
Date: 6/19/2009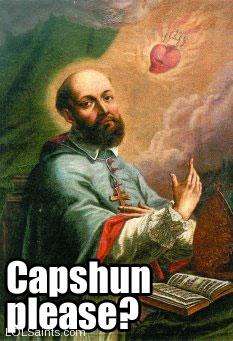 "Please give me a caption before this heart flies away."
The time has come! This months prize? A well-loved (meaning used, but in perfect condition) iPod Shuffle! And to round it out, we'll send you a holy card of the most musical saint on the planet—Cecilia! What better way to enjoy your jam session than by dedicating it to the patron of all jam sessions? And you'll have good ol' Saint Francis de Sales (pictured above) to thank for it!
Enter to win by leaving a caption (or two) in this post's comments (you have the whole weekend, so get to it!).
Here's how the contest works:
You provide a creative caption for the above photo in the comments by Sunday, June 21 (Father's Day!).
LOLsaints.com will pick a winner after the comments are closed.
The winner will be receiving:
(The above iPod was pre-loved by LOLSaints.com's founder... and this is an actual photo of it. What you see is, truly, what you get! Of course, it comes with a USB charger/sync connector and headphones.*)
In order to get the prize, you will need to include a working email address in your comment (otherwise, we'll be unable to contact you regarding the prize; duh!). The easiest way to guarantee you'll be able to be contacted is to register a user account before leaving said comment :-)
Contest rules:
You may submit up to two entries in the same post - if you enter more than two entries, only the first two will be accepted.
All entries must be submitted by Sunday, June 21. At that point the contest will be closed, and no more entries will be accepted.
By submitting an entry, you are giving LOLSaints.com the right to use your entry on its website, atop the picture at the top of this page.
The winner will be selected before on the day following the contest's end, and will be notified by email. If the winner does not respond within one day of being contacted, the runner-up will be awarded the prize. If the runner-up is also unable to be contacted, the prize will be held until the next contest.
LOLSaints.com's judgement is final.
So, please leave a comment below, and say a prayer to Saint Anthony that we'll find your capshuns humorous!
*No music included, you ask? Well, we don't participate in music piracy, so you'll have to supply your own tunes for some holy rollin'!