CONTEST: Win an iPod Touch!
Saint:
Date: 7/15/2009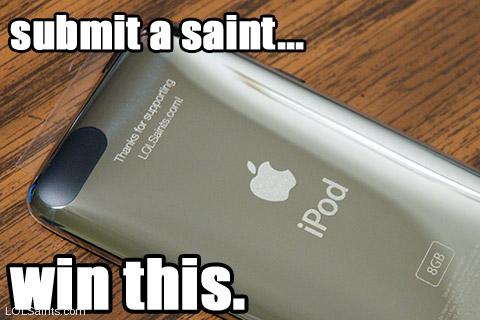 [UPDATE: The contest is over - congratulations to our winning entry, posted on 8-27-2009!]
This month's contest is rather simple, actually:
Submit a Saint, Win an iPod Touch
(or other great prizes!)
How it works
Submit a Saint using the 'Submit a Saint' form (you need to be a registered user), and you're automatically entered to win. The saint image MUST be captioned (you can use ROFLbot if you don't have Photoshop), and bonus points to anyone who writes a good description of the saint in the 'Description' area and/or tweets/shares this contest!
You can submit as many LOLSaints as you want! The more the merrier... just make 'em humorous and meaningful! Enter as many you want; it can't hurt your chances :-)
What You Get
...a.k.a. Prizes! The prizes are as follows:
iPod Touch - 8 GB (brand new, laser-engraved)
This iPod is brand-spanking new, and ready (quite ready, in fact) to rock. You'll get it free and clear, and we only ask that you say a prayer for the LOLSaints admins every time you launch the iBreviary to pray the Office, or iRosary to pray the Rosary! (Courtesy of Jeff Geerling).
$50 Gift Card to Aquinas & More
The best Catholic supply store on the Internet. Period. (Courtesy of Aquinas & More Catholic Goods).
Other miscellaneous prizes
These will be announced when the winners are selected. And they'll be completely random. You might get a priceless piece of LOLsaints-inspired art, or you might get something even crazier!
By entering the contest, you are automatically in the running for one of the above prizes. You can only win one prize, though. The iPod Touch and $50 Gift Card go to the first and second place winners, respectively.
Speaking of Aquinas and More... why don't you help thank them for sponsoring our contest by browsing their site for some awesome Catholic gifts?

How We Will Choose a Winner
Sometime mid-August, we will whittle down the submissions to the top five, and at that point, we will open up an online poll in which registered LOLSaints users can vote for their favorite. We will weigh in the community's decision with our own, and select the top three LOLSaint submissions. The final decision will be made before the end of August.
Timeline for the Contest
The contest begins NOW, July 15, at 12:00 a.m. Earlier submissions will not be entered into the contest.
Submissions can be made until August 15, at 12:00 a.m. Any submission made after that time will not be entered into the contest.
The top five submissions will be chosen by August 20th, at which time, they will be posted to this website to be voted upon, for a period of 5 days.
On August 25th, the voting process will be closed, and we will choose the final winners, contacting them via email. We will then announce the winners on the LOLSaints.com homepage by the end of August.
Have a good time finding and learning about saints!