I can haz comb? And iPod?
Saint:
Date: 8/27/2009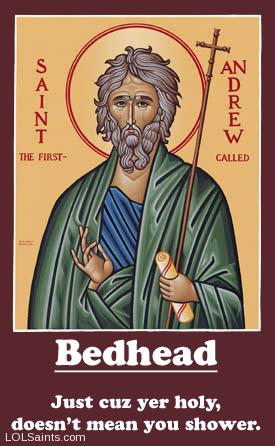 Hair needz grooming. (CONGRATS to the WINNER!)
Congratulations to Catholic Audio, who has (fittingly) won the iPod Touch (the prize for the biggest LOLSaints contest yet)! Catholic Audio has posted many, many saints to LOLSaints (including the infamously funny Lazer Wounds image), and this is but one of his many humorous examples of wit and wisdom.
We salute you, Mr. Catholic Audio!
Thank you to everyone who sent in an image; this contest was awesome, and we have even more awesome things in store for you! Stay tuned for (a) more saintly updates, and (b) more cool new things from LOLSaints.com!
(Pictured above: St. Andrew, brother of St. Peter, was the first Apostle called by our Lord.).